With President Joe Biden less popular than ever, his staff and the Democrats seem so desperate that they resorted to praising him for the drop in the price of gas by two whole cents. Even the friendly press thought it a bit much.
"Thanks, Joe Biden," crowed the Democratic Congressional Campaign Committee (DCCC) on Thursday afternoon, posting a chart showing a dramatic slide in the price of gas. That is, unless one took a look at the actual numbers on the left, which showed the drop going from $3.40 a gallon to... $3.38. In other words, two cents - the common price of a worthless opinion in US vernacular.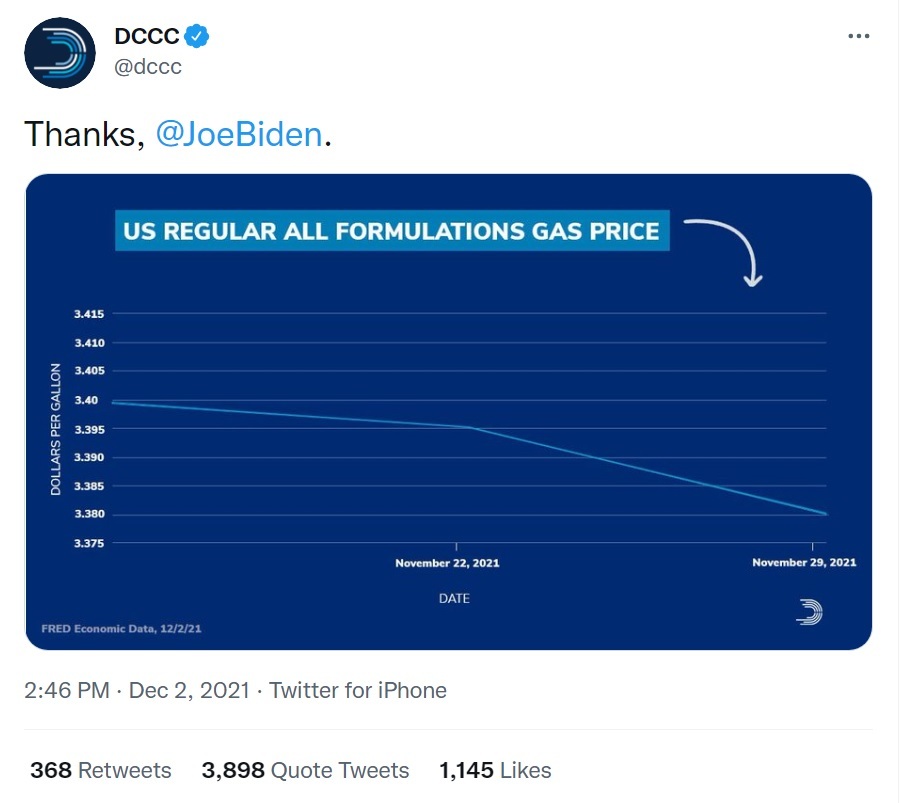 Twitter/screenshot
The avalanche of replies pointed out that gas prices have gone up from $2.464 or so per gallon when Biden was sworn in. There were also comparisons with the White House cheering a purported $0.16 reduction in the cost of July 4 food earlier this year.
The press secretary for Senator Josh Hawley (R-Missouri), Abigail Marone, did some sleuthing on Twitter and suggested who might have been behind the DCCC stunt. Liberal blogger Matt Yglesias, a Vox co-founder who later moved to Substack, had tweeted out a version of the chart on Thursday morning.
The tweet was then liked by Biden's chief of staff, Ron Klein, Marone's screenshots show. A few hours later, the DCCC posted their own version of the chart, with a different color scheme.
Klein is known for Twitter activism, liking and retweeting takes supportive of the administration. On Wednesday, he picked an argument with a Wall Street Journal commentator, insisting that tough Covid-19 measures produced "stronger economic outcomes" such as jobs and growth, which he said were up "significantly" over last year.
Most Americans seem to disagree, with the latest Trafalgar Group survey showing Biden's approval rate 23 percentage points underwater. Only 36.3% of Americans approved of his job performance, and only half of that number "strongly," while 59.1% disapproved.
The US recorded the highest inflation rate since 1990 in October. Earlier this week, Federal Reserve Chairman Jerome Powell told the Senate inflation would not be "transitory" as he initially predicted. Just before Thanksgiving, the St. Louis Federal Reserve was urging Americans to forego turkey and eat soy instead.
Amid such grim news, the DCCC stunt - which echoed the Yglesias tweet liked by Klein - seems like a desperate effort to deny reality and claim everything is working out just fine, actually. Not to mention that, if Marone's sleuthing is true, the White House chief of staff is basically getting his talking points from bloggers.
Even the Washington Post, normally a champion of Democrat policies, was unhappy with the DCCC chart. Political correspondent Philip Bump called it "the worst defense of the Biden administration yet," pointing out that until recently, Democrats argued that Biden was not to blame for the rise in gas prices.
"Now, though, the DCCC wants to not only give Biden credit for a decline in the price of gas, they want to give him credit for a tiny decline in the price of gas," wrote Bump. For context, he included a chart showing the portion the DCCC chose to highlight on the overall gas price chart.
Bump advised the DCCC to wait until the drop is "a little more substantial" before boasting, or at least not "try to prove their dubious point with a graph that makes obvious how modest the decrease has been."
It wasn't quite clear on Thursday why the Democrats were so desperate to hype a two-cent drop in gas prices, in such a transparently cringe-worthy way that even the Post was put off. Then on Friday, the monthly jobs report showed only 210,000 new nonfarm payrolls, far short of the 550,000 that had been expected.
(RT.com)