Several Russian midshipmen were involved in the clash between the English, French and Spaniards.
On October 21, 1805, at Cape Trafalgar in southern Spain, British Admiral Horatio Nelson defeated the combined Franco-Spanish fleet. This victory secured Great Britain's status as ruler of the seas for several centuries.
Several Russian midshipmen, who, in those years, were trained in England, were involved in the resounding triumph. As volunteers in the British Navy, they engaged in combat with the French and Spaniards.
Related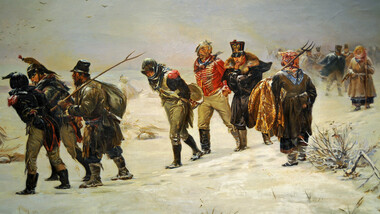 How Russia crushed Napoleon in 1812 (PICS)
Thus, Mardarius Milyukov fought on the flagship 100-gun ship of the 'Royal Sovereign' line. The ship received serious damage and lost more than 130 crewmen through death or injury, but Milyukov remained unharmed.
Alexander Kulomzin, another future Russian naval officer, served on the frigate 'Euryalus', which took the battered 'Royal Sovereign' in tow. He, like other Russian volunteers, also survived the battle safely.
Nevertheless, not all managed to return to England after. Future admiral and traveler Alexander Avinov was captured by the Spaniards and was forced to spend several months in prison on the Canary Islands.