PALMYRA, Syria - At the height of the Islamic State group's rampage across Syria, the world watched in horror as the militants blew up an iconic arch and temple in the country's famed Roman ruins in Palmyra.
Eight years later, IS has lost its hold but restoration work on the site has been held up by security issues, leftover IS land mines and lack of funding.
Other archaeological sites throughout Syria face similar problems, both in areas held by the government and by the opposition. They were damaged by the war or, more recently, by the deadly 7.8-magnitude earthquake that struck a wide area of neighboring Turkey and also Syria in February.
Youssef Kanjou, a former director of Syria's Aleppo National Museum, said the situation of heritage sites in his country is a 'disaster.'
Without a coordinated preservation and restoration effort, said Kanjou, now a researcher at Tubingen University in Germany, 'we will lose what was not destroyed by the war or the earthquake.'
Tourist draw
Before the war, Palmyra - one of Syria's six UNESCO world heritage sites - was the country's archaeological crown jewel, a tourist attraction that drew tens of thousands of visitors each year. The ancient city was the capital of an Arab client state of the Roman Empire that briefly rebelled and carved out its own kingdom in the third century, led by Queen Zenobia.
In more recent times, the area had darker associations. It was home to the Tadmur prison, where thousands of opponents of the Assad family's rule in Syria were reportedly tortured. IS demolished the prison after capturing the town.
The militants later destroyed Palmyra's historic temples of Bel and Baalshamin and the Arch of Triumph, viewing them as monuments to idolatry, and beheaded an elderly antiquities scholar who had dedicated his life to overseeing the ruins.
IS Militants Execute Former Antiquities Chief in Palmyra
Today, the road through the desert from Homs to Palmyra is dotted with Syrian army checkpoints. In the town adjacent to the ancient site, some shops have reopened, but signs of war remain in the form of charred vehicles and burned-out or boarded-up stores and houses.
The Palmyra Museum is closed, and the much-loved lion statue that used to stand in front of it has been moved to Damascus for restoration and safekeeping.
Nevertheless, Syrian and foreign tourists have begun to trickle back.
'We thought it was impossible that foreigners would return to Palmyra,' said Qais Fathallah, who used to run a hotel there but fled to Homs when IS took over. Now he is back in Palmyra, operating a restaurant, where he said he serves tourists regularly.
'Really upsetting'
On a recent day, a group of tourists from countries including the United Kingdom, Canada and China, and another, with Syrian university students, were wandering through the ruins.
Some of the Syrian tourists had visited in better days. For communication engineering student Fares Mardini, it was the first time.
'Now I've finally come, and I see so much destruction. It's something really upsetting,' he said. 'I hope it can be restored and return to what it was.'
In 2019, international experts convened by UNESCO, the United Nations' cultural agency, said detailed studies would need to be done before starting major restorations.
Youmna Tabet, program specialist at the Arab states unit of UNESCO's World Heritage Center, said restoration work often involves difficult choices, particularly if there isn't enough original material for rebuilding.
'Is it worth it to rebuild it with very little authenticity or should we rather focus on having 3D documentation of how it was?' she said.
Missions to the site were held up at first by security issues, including land mines that had to be cleared. IS cells still occasionally carry out attacks in the area.
Money is also a problem.
'There is a big lack of funding so far, for all the sites in Syria,' Tabet said, noting that international donors have been wary of breaching sanctions on Syria, which have been imposed by the United States, the European Union and others.
U.S. sanctions exempt activities related to preservation and protection of cultural heritage sites, but sanctions-related obstacles remain, such as a ban on exporting U.S.-made items to Syria.
Russian project
Russia, an ally of Syrian President Bashar al-Assad's government, has begun restoring Palmyra's triumphal arch, the largest-scale project underway to date at the site.
'We have some funding from some friends in some places, but it is not sufficient in relation to the disaster that occurred,' said Mohammad Nazir Awad, director general of Syria's department of Antiquities and Museums.
It doesn't have to be this way, said Maamoun Abdulkarim, who headed the antiquities department at the time of the IS incursion. Abdulkarim pointed to the international push to recover damaged heritage sites in the city of Mosul in neighboring Iraq, also controlled by the militants for some time, as an example of a successful restoration.
'We need to make some separation between political affairs and cultural heritage affairs,' said Abdulkarim, now a professor at the University of Sharjah. He warned that damaged structures are in danger of deteriorating further or collapsing as the rehabilitation work is delayed.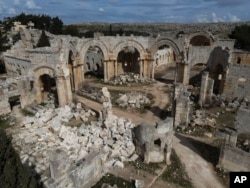 A view of the Church of Saint Simeon, 30 kilometers northwest of Aleppo, Syria, March 8, 2023. The Byzantine-era church suffered destruction during the Islamic State rampage across Syria and was further damaged in a February 2023 earthquake.
The deadly February 6 earthquake caused further destruction at some sites already damaged by the war. This includes the old city of Aleppo, which is under the control of the government, and the Byzantine-era church of Saint Simeon in the Aleppo countryside, in an area controlled by Turkish-backed opposition forces.
About one-fifth of the church was damaged in the earthquake, including the basilica arch, said Hassan al-Ismail, a researcher with Syrians for Heritage, a nongovernmental organization. He said the earthquake compounded earlier damage caused by bombings and vandalism.
The group tried to stabilize the structure with wooden and metal supports and to preserve the stones that fell from it for later use in restoration.
Ayman al-Nabo, head of antiquities in the opposition-held city of Idlib, appealed for international assistance in stabilizing and restoring sites damaged by the earthquake.
Antiquities should be seen as 'neutral to the political reality,' he said. 'This is global human heritage, which belongs to the whole world, not just the Syrians.'