SEOUL, South Korea - The influential sister of North Korean leader Kim Jong Un vowed again Sunday to push for a second attempt to launch a spy satellite as she lambasted a U.N. Security Council meeting over the North's first, failed launch.
The North's attempt to put its first military spy satellite into orbit last Wednesday failed as its rocket crashed off the Korean Peninsula's western coast. An emergency meeting of the U.N. Security Council was still convened at the request of the United States, Japan and other countries to discuss the launch because it had violated council resolutions banning the North from performing any launch using ballistic technology.
On Sunday, Kim's sister and senior ruling party official, Kim Yo Jong, called the U.N. council 'a political appendage' of the U.S., saying its recent meeting was convened following America's 'gangster-like request.'
FILE - Kim Yo Jong in Hanoi, Vietnam, March 2, 2019, sister of North Korean leader Kim Jong Un vowed, June 4, 2023, to push for a second attempt to launch a spy satellite.
She accused the U.N. council of being 'discriminative and rude' because it only takes issue with the North's satellite launches while thousands of satellites launched by other countries are already operating in space. She said her country's attempt to acquire a spy satellite is a legitimate step to respond to military threats posed by the U.S. and its allies.
'(North Korea) will continue to take proactive measures to exercise all the lawful rights of a sovereign state, including the one to a military reconnaissance satellite launch,' Kim Yo Jong said in a statement carried by state media.
In her earlier statement Friday, Kim Yo Jong said the North's spy satellite 'will be correctly put on space orbit in the near future' but didn't say when its second launch attempt would take place.
South Korea's spy agency told lawmakers Wednesday it will likely take 'more than several weeks' for North Korea to learn the cause of the failed launch but it may attempt a second launch soon if defects aren't serious.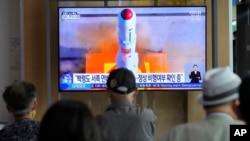 FILE- A TV screen shows an image of North Korea's rocket launch during a news program at the Seoul Railway Station in Seoul, South Korea, May 31, 2023.
Washington, Seoul and others criticized the North's satellite launch for raising international tensions and urged it to return to talks.
A military surveillance satellite is among a list of sophisticated weapons systems that Kim Jong Un has vowed to acquire amid protracted security tensions with the United States. Since the start of 2022, Kim has carried out more than 100 missile tests in what he called a warning over expanded military drills between the U.S. and South Korea.
Experts say Kim would want to use his modernized weapons arsenal to wrest concessions from Washington and its partners in future diplomacy.
North Korea was slapped with rounds of U.N. sanctions over its past nuclear and missile tests and satellite launches. But the U.N. Security Council failed to toughen those sanctions over North Korea's recent testing activities because China and Russia, both permanent members of the U.N. council, blocked the U.S. and others' attempts to do so. During the latest U.N. council session Friday, China and Russia again clashed with the U.S. over the North's failed launch.
After repeated failures, North Korea placed Earth-observation satellites into orbit in 2012 and 2016, but foreign experts say there is no evidence that either satellite transmitted imagery and other data.
Also Sunday, North Korea threatened not to notify the International Maritime Organization of future satellite launches in advance to protest the group's condemnation of North Korean missile tests.
The IMO's maritime safety committee on Wednesday adopted a rare resolution denouncing North Korea for conducting launches without proper notification that 'seriously threatened the safety of seafarers and international shipping.'
Kim Myong Chol, an international affairs analyst in North Korea, said in a statement carried by state media: 'In the future, IMO should know and take measures by itself over the period of (North Korea's) satellite launch and the impact point of its carrier and be prepared to take full responsibility for all the consequences from it.'
Ahead of its recent spy satellite launch, North Korea told the IMO and Japan that a launch would occur between May 31 and June 11.